Well well well... I rushed back from work wanting to cook so badly! I don't know whats happening to me. I don't cook! Coz my bf is a chef. I don't rush back home and feel ALL xcited to cook! Hahahahahhaa.... Blame the internet! I got some recipes from internet. Of course, I change it and make it my own (as if I know how to cook). Hahahahhahaaa....
My yummy dinner! :)
Ayam Masak Merah
Chicken in Red Sauce (is this the correct English term for it? No idea..LOL)
It's a bit spicy, but yummy ;) I make few changes to the recipe due to lack of ingredients.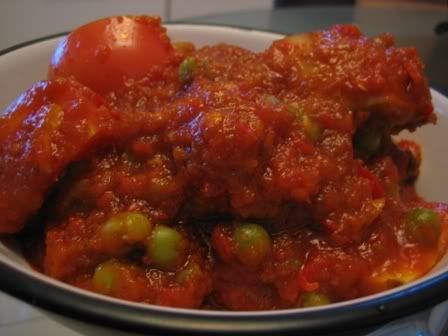 Sayur Kangkung Goreng Belacan
Tong Choi in Asian Spice
(thats the name of the veges I cooked, and I don't know the name of the spice in English, sorry...).
This is a bit salty for me. I know what he's going to say when he eat this one. But wutever... At least I tried ;) I'll perfect it the next time I cook again. By the way, it is my own recipe. Pakai campak je semua masuk :P
Telur Goreng Masak Tuna
Fried Egg Tuna
It is surprisingly delicious. I got the recipe from the internet. I do not make any changes to the recipe :)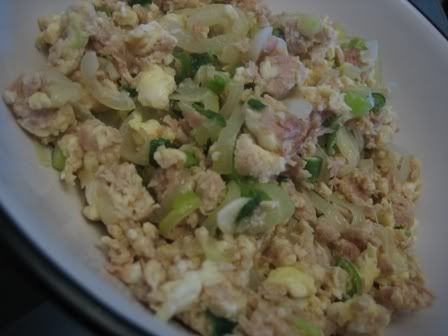 I'm happy with the result eventhough it is not as yummy as he usually cook, or Nana's cooking :P This is my first try cooking Ayam Masak Merah. This dish is suitable to eat with Tomato rice. Yummy!!!! Neway, I eat it with boiled rice. I have not yet add Tomato rice in my recipe book. I will... sooner or later ;)
There is few more noodles dishes that I wantedto try. And it is Malaysian food. I'm so missing my mom's cook! Ok ok.. My cooking is NOTHING compared to her. I'm juz starting to learn :)
That's it! I'll update again tomorrow or dayafter tomorrow or.... ;) Take care..
P/S:- I cut my fingers while cooking juz now... Heehehee... I really need to learn how to cook properly. I'm a big girl! I can do it! ;)