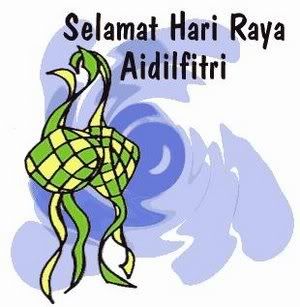 Hi all!
I would like to wish to all muslim Selamat Hari Raya Aidilfitiri, Happy Eid Mubarak!!! XD
I'm so excited to celebrate this year Raya with my bf and Nana and his friends. This year I'm going to celebrate my Raya in Ennis, Clare (his place!). He and his good friend Abg Shukri is going to cook ALL the delicious Raya dish! I just can't wait! I'm going to eat EVERYTHING! Tehehehehheee... And I'm going to take lots n lots of Raya pics and the food pics!
Talking about Raya, I still remember my 1st Raya in Dublin. I still remember my batch open house. The walk to Malaysian Hall, the crying while talking to my family :P, and everything else! I guess I miss my batch. See you guys during Raya aite? ;)
My 2nd Raya was in London with the Londoners :) I miss you guyz too! Do visit me here plsshhh... hehehehe... InsyaAllah, I'll visit you guys again during Xmas aite.
Owh yeah... I forgot the most important thing ever!!!! During this happy moments of celebrating Raya, I would like to apologize to my friends and all the readers of my blog if I did/say something that might hurt you. Kira 0-0 balik eh? ;)
That's it! I'm off. I won't be updating til next week!!! Off to Ennis on Wed! Enjoy the celebration with the

BIGGEST

smile you have :)